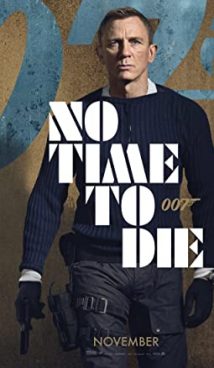 PG-13
02 hours 43 minutes
Synopsis
It is the anniversary twenty-fifth film about the adventures of the most famous agent.
After being fired from the British secretive agencies, James Bond (Daniel Craig) moves to Jamaica, where he enjoys a well-deserved rest. However, a quiet life is not for Bond. Felix Leiter (Jeffrey Wright), his CIA friend, asks him to do a favor and help to find one scientist. James agrees, but he does not even imagine where this search will lead him.
Interesting facts
The delay in the new film about Bond was connected with a leapfrog of famous directors. At first, Sam Mendes, who shot two previous films of the series, refused to shoot the new one. Then, the producers' offer was rejected by Christopher Nolan and Denis Villeneuve. In 2018, Danny Boyle agreed to work on the film, but six months later, he left the project due to creative differences. Finally, Cary Fukunaga took a position of the director.
No Time to Die will be a landmark for the entire James Bond epic. This will be the last appearance of Daniel Craig in the pivotal role. Besides, it is the first film in the series shot on IMAX camera.
Billie Eilish was given the honor to perform the original motion picture soundtrack. Eighteen-year-old Billy is the youngest title song performer in the James Bond movie series.
Information
A film of American and British production is based on the works of Ian Fleming and shot in the thriller genre.
The premiere will take place on November 12, 2020 in the UK.
You can watch the movie trailer online on the website without registering. You can also find interesting facts about the film and find out the release date in Russia.
FAQ
Where was the movie made?
No Time to Die has an impressive geography of filming as follows: Great Britain, Jamaica, Italy, Norway and the Faroe Islands.
 Related Movies
Spectre
Skyfall
Jason Bourne