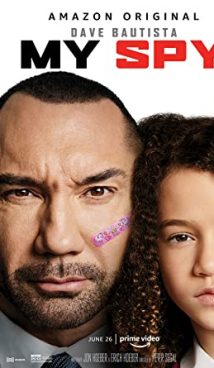 PG-13
01 hours 39 minutes
English, French, Russian

6.3
Synopsis
My Spy is not exactly the film that sets the world alight. It is a classic family movie made by all the canons of the genre. Former WWE superstar Dave Bautista followed in the footsteps of Dwayne Johnson as a major movie star, playing in action comedy films among others.
Bautista portrays JJ, a CIA operative caught on camera by a precocious girl while on a covert surveillance mission. She then blackmails him into befriending her and even teaching her how to be a spy. Is My Spy worth watching? While it is not exactly the best spy movie, it is definitely fun to watch with your family, especially in these uncertain times when we need to keep our spirits up.
Did you know?
Chloe Coleman — a young actress who played Sophie in My Spy — is known for her roles in popular TV series Upload and Big Little Lies and is all set to hit the big screen with Avatar 2 in 2021.
Dave Bautista's acting career seems to be on the rise as he looks ahead to his appearances in some upcoming blockbusters. We will see him starring in Dune reboot on New Year's Eve, while next year Bautista will headline Zack Snyder's Army of the Dead and Guardians of the Galaxy Vol. 3.
Overview
My Spy is an American family comedy film. It premiered worldwide on January 9, 2020.
Please visit our website to watch My Spy trailer online and check out interesting film trivia and a release date. No signup required.
Frequently asked questions
When did the film have its world premiere?
My Spy was released in Australia on January 9, 2020. On April 8, 2020, Amazon acquired the film for streaming in the US but is struggling to settle on the exact release date.
Although the film is set in Chicago, it was mostly shot in Canada. In one of My Spy scenes Toronto stands in for Paris.
 See also
Dora and the Lost City of Gold
The Game Plan
Get Smart