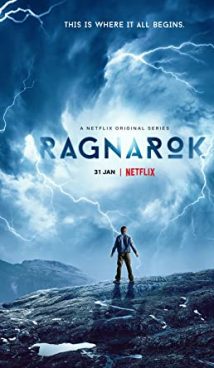 Synopsis
If you think that Thor in his shiny armor is helping the Avengers team, you are most likely wrong.
According to Netflix, Thor is Magne, a dyslexic teenager. He, along with his mother Turid and brother Laurits, move to the town of Edda — a direct analogy to Elder Edda, a mythological Scandinavian collection — where they start a new life. After some time, Magne begins to feel the awakening of supernatural forces in him, which is very helpful because the richest family in the town turns out to be giants, Jotuns, possessed with the idea of murdering Magne.
Interesting Facts
"Ragnarok" is another success of Netflix's international department. In 2020, the service subscribers will also have access to the following non-American TV-series: Japanese "Ju-On: Origins," Polish "The Woods," Belgian "Into the Night," Brazilian "Reality Z," as well as to the new seasons of Netflix's hits "Money Heist," "Dark," and "Kingdom."
Magne is not the only embodiment of a Scandinavian god in the "Ragnarok" TV-series. His brother Laurits is Loki, the god of deception and cunning. Many other characters in the series have obvious similarities with the Scandinavian epic heroes, and it is clear the showrunners will pay more attention to this in the next season.
The fictional Edda is the real town of Odda, located near Bergen in Norway.
Information
This is a Norse-Danish fantastic drama TV-series
The premiere of the Season 1 took place on January 31, 2020 on Netflix.
FAQ
– What channel is behind the TV-series production?
"Ragnarok" was filmed for the Netflix streaming platform.
– Will there be a continuation?
Yes. The series' success led to Netflix announcing the Season 2 that will be released in 2021.
More Like This
American Gods
Locke & Key
Atiye