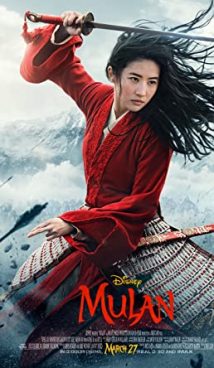 Synopsis
This feature film is based on the Disney animated hit of 1998.
Once upon a time in China, nomadic Huns begin to attack the northern borders.
The emperor urgently needs to increase army strength and he orders to mobilize one man from each family.
Somewhere out in the sticks, the girl Hua Mulan (Liú Yìfēi) disguises herself as a man, calls herself Hua Jun and goes to war instead of her father.
We will see a lot of adventures and dangerous battles where Mulan has to prove herself, temper her character and come off with flying colors.
Interesting facts
The idea of ​the popular cartoon adaptation had a very long haul: the shooting was supposed to begin back in 2010, but was constantly canceled. Only in 2016, the project moved off the ground and the premiere was scheduled for 2018. However, Mulan did not stop its ordeal: the production was delayed and the premiere moved to 2020, exactly at the beginning of the coronavirus wave. Now the studio hopes that all viewers will be able to see the film in July 2020.
It was decided to make the movie more realistic as compared to the cartoon. The studio refused not only songs, but also the dragon Mushu.
In addition, the creators were on the bit of the #MeToo movement and decided not to transfer the romantic plotline between Mulan and her commander Li Shang to the film.
 Information
The American-made film is based on Chinese legends and the similarly-named cartoon.
The film premiere will be on July 24, 2020.
You can watch the movie trailer online on the website without registering. You can also find interesting facts about the film and find out the release date in Russia.
Related Movies
Aladdin
The Lion King
Crouching Tiger, Hidden Dragon (Wo hu cang long)