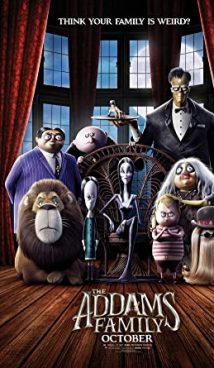 English, Spanish, Italian, French

5.8
Synopsis
Once again, welcome to Addams Estate, a place where "black humor" reveals new dimensions and "normality" is discouraged!
We will again be shown Gomez, the head of the family, as well as his terribly beautiful wife Morticia, a stupid son Pugsley and too serious daughter Wednesday. As it seems, we missed the witch grandmother, the zombie butler and the ubiquitous hand named Thing – they are also in place.
Interesting Facts
Israeli viewers were the first to see The Addams Family new movie, which premiered on October 10, 2019. The world premiere of the film took place a day later. On February 17, 2020, the animated film became available for viewing on streaming platforms.
Greg Tiernan and Conrad Vernon, who previously directed "Sausage Party", a very bawdy adult cartoon, are the directors of this film. It is noteworthy that Tiernan has been working on an animated franchise about Thomas the engine for the past ten years. But Vernon independently directed such animated hits as "Shrek 2" and "Monsters vs. Aliens". Both directors will work on the sequel to "The Addams Family", which is slated for release in 2021.
In 2010, rumors appeared that Tim Burton would shoot a new puppet cartoon about the Addams family. The project, which had been in development for several years, was canceled in 2013.
In the new animated film, Gomez Addams is voiced by actor Oscar Isaac (as it should be, the actor of Hispanic origin), Morticia was voiced by Charlize Theron, Chloe Grace Moretz gave her voice to Wednesday, grandmother spoke in Betty Midler's voice, and Itt's cousin was voiced by Snoop Dogg himself.
About
The Addams Family is an American-Canadian-produced black comedy cartoon.  The world premiere of the animated film took place on October 10, 2019.
Related Films
The Willoughbys
The Secret Life of Pets 2
Trolls World Tour
Tags: animation, black humor, film adaptation, horror, Oscar Isaac, Charlize Theron