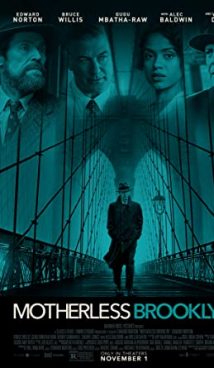 Synopsis
Detective Frank Minna (Bruce Willis) was killed when another investigation led him to very influential people. Lionel (Edward Norton), Frank's friend suffering from Tourette's syndrome and whom the detective once helped with his work, witnesses this massacre. Now, Lionel is obsessed with the desire to find the murderers of his patron by all means. Overcoming his own mental difficulties, he repeats Frank's investigation. However, Lionel has no idea where the evidence will lead him and what dangerous people, he will face in the desire to avenge his friend.
Interesting Facts
First presented to the public in the summer of 2019 at the Telluride Film Festival in America, "Motherless Brooklyn" was released internationally only that fall. From January 31, 2020, "Motherless Brooklyn" is available to watch on streaming platforms.
Edward Norton, the leading actor in the film, is also a scriptwriter and director. This is the second film in his directorial filmography – "Keeping the Faith", a film in which Norton made his directorial debut, was released back in 2000. However, Edward became the main screenwriter for the first time.
It is believed that Tourette's Syndrome, which the protagonist of the film suffers from, was first described in the 15th century in the monumental work "Hammer of the Witches". Obviously, in those days, people with this syndrome were considered possessed.
Gugu Mbatha-Raw, an increasingly popular actress, also entered the cast of the film. After starring in several blockbuster movies, she voiced Plumette's broomstick in the "Beauty and the Beast", appeared in "The Morning Show", the flagship of the Apple Tv Plus streaming platform, and is now filming the "Loki" MCU series.
About
Motherless Brooklyn is an American-made crime drama film. Motherless Brooklyn premiered on 30 August 2019 at the Telluride Film Festival.
Related Films
Dark Waters
The Good Liar
Tags: retro, 50s, crime, investigation, detective, noir, Edward Norton, Bruce Willis, Willem Dafoe, Alec Baldwin