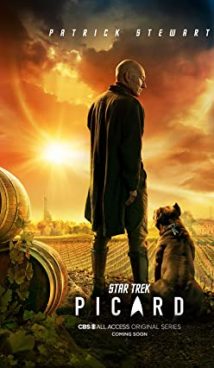 Synopsis
Years later, actor Patrick Stewart returns to his renowned role of Jean-Luc Picard from the Star Trek Universe. For the first time this character was released 33 years ago in the TV series titled Star Trek: The Next Generation. Picard was the captain of the USS Enterprise (NCC-1701-D). Then Patrick Stewart appeared in this role in four more feature films until he announced that he would not return to the franchise.
However, time (and, probably, fees) forced him to change his mind, and again we see the continuation of the story.
The retired Star Fleet Admiral lives quietly on the Planet Earth, in France, but the ghosts of the past make him return to space.
Interesting facts
The Star Trek franchise currently has thirteen full-length films, seven TV series, and innumerable novels and short stories.
In 2020, in addition to Packard, we will see the new season of Star Trek: Discovery and the completely new animated series Lower Decks.
Information
The American-made TV series shot in the science fiction genre.
The first season premiered on January 24, 2020 at CBS All Access.
You can watch the series trailer online on the website without registration. You can also find interesting facts about the series.
FAQ
What channel is producing the series?
The series was commissioned by CBS All Access.
Will there be a sequel?
Star Trek: Picard has been already extended for the second season before the premiere of the first one. Continuation is expected no earlier than 2021.
Related Series
Star Trek: Discovery
The Orville
The Mandalorian
Tags
science fiction, space travel, star trek, drama