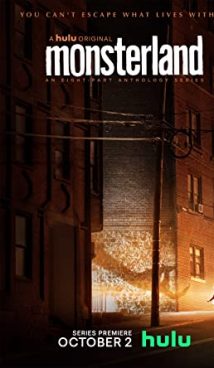 Synopsis
Anthology Monsterland tells us about the encounters of the simplest Americans with incredible creatures. Someone will find the remains of a strange animal on the shore of the lake, someone will see a cruel vampire, and someone will face a real angel. All witnesses have one thing in common: their lives will never be the same after these meetings.
Who are these creatures? Why did they come to people? Maybe all these monsters are really us? The authors of the TV series will not give answers to these questions and will only ask new ones.
Did You Know?
The full first season of Monsterland aired on October 2, 2020 on Hulu.
The series based on the Sci-Fi stories by Nathan Ballingrude (book called North American lake monsters). Published in 2013, this book was very popular with critics and received a number of literary awards.
Each episode will be dedicated to a separate story that is not related to others.
The showrunner of the TV series is Mary Lowes, who previously worked on famous shows like Preacher and Succession.
All episodes are named after the places where the heroes met with mysterious creatures. But the series was filmed only in New York State.
Monsterland is a very experimental project. All episodes were directed by different directors, most of whom are just starting their careers.
Information
American-made TV series based on Nathan Ballingrude's horror story collection called North American Lake Monsters. The first season of the Monsterland show premiered on October 2, 2020 on the Hulu channel.
More Like This
The Twilight Zone
Lovecraft Country
American Horror Story
Tags: Anthology, Almanac, Film Adaptation, Horror, Drama, Fantasy