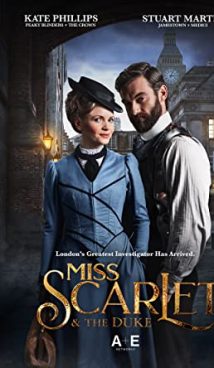 Synopsis
Meet Miss Eliza Scarlet (Kate Phillips), an inhabitant of Victorian London. She is young, smart, and pretty. After the death of her father, a private detective Henry Scarlet, a marriage to someone and living a boring and restful life was the best solution for Eliza. However, Eliza is not the kind! She is absolutely sure that she wants to continue a family business and find her place where only men are allowed. She easily initiates investigation of complicated cases and tries to make a partnership with inspector William Wellington of Scotland Yard, known as the Duke.
The series includes all main issues of current scope: women's rights, gay-bashing and racial segregation. Anyway, this lovely detective includes excellent atmosphere and funny situations.
Interesting facts
Actress Kate Phillips is no stranger to action in historical dresses. She appeared in War & Peace, The Crown, The Alienist and Peaky Binders.
Dublin acted as Victorian London of Miss Scarlet and the Duke. There was filmed the greater part of the series.
Information
This joint British and Irish-made TV series is shot in detective genre.
The first season premiered on March 31, 2020 on Alibi British TV channel.
FAQ
What channel is producing the series?
The first episode of Miss Scarlet and the Duke was broadcasted on Alibi British cable channel.
The series creators have not announced the renewal of Miss Scarlet and the Duke yet.
Related Series
Ripper Street
Bones
The Luminaries