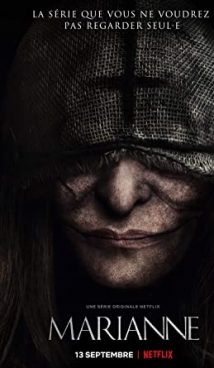 Synopsis
Emma Larsimon, a very successful author of mystical novels, is suddenly overtaken by the ghosts of the past: a girl from the writer's hometown who has come to her autograph session asks he to return home, and then kills herself in front of the public. Shocked by what she saw, Emma decides to go home to a seaside town on the shores of the Bay of Biscay. Here the girl remembers an important thing – the terrible witch Marianne, who became the main character in Emma's books, actually exists, and she has been visiting the girl since childhood. And only by appearing on the pages of books, Marianne ceases to disturb Emma. Now, when the writer announced the finale of the series of novels dedicated to the witch, Marianne is terribly unhappy. Threatening the writer and killing her friends one by one, the horrible witch demands that Emma start writing new books.
Interesting Facts
All episodes of the series were released on September 13, 2019 on the Netflix streaming platform and became available for viewing on the same day. "Marianne" was not renewed for a second season.
Having spent a record $ 1.7 billion filming European TV shows, the Netflix streaming platform has been developing international series over the past few years. Unfortunately, with the coronavirus pandemic, the TV show industry has stalled – but not completely stopped – this year. "Revolution" (La Révolution), a French-made TV series about an epidemic of brutality among the nobility, premiered on October 16, 2020 on Netflix streaming service.
While most of the filming of the television series took place in Paris, the real Doelan, located in the province of Brittany on the shores of the Atlantic Ocean, acted as the fictional town of Elden.
About
Marianne is a French TV show filmed in the genre of mystical thriller. The first season of the television series was premiered on September 13, 2019 on the Netflix streaming service.
Related Shows
Revolution (La Révolution)
Le Chalet
Curon
Tags: horror, France, return to hometown, death, mystic, witch