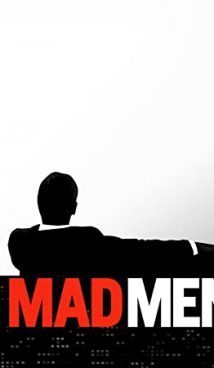 Synopsis
Welcome to New York City of the early 1960s! Here, on Madison Avenue in Manhattan, resides the fictional 'Sterling Cooper' advertising agency where Don Draper, its advertising executive, works. Why 'mad men'? It was a slang term coined by the agency's staff to refer to themselves, as 'Mad' being short for "Madison".
Almost impossible to encompass with a few phrases the great idea that lies behind this iconic and probably one of the best TV series ever shot. In fact, the plot is not merely about the particular characters. By means of this visible upper layer the series penetrate all the important events and topics of modern American history starting from the 1960s. Moreover, one would hardly find any other industry that's integrated into consumers' life and culture as organically as advertising.
 Trivia
The very first episode of "Mad Men" TV series aired on the American "AMC" cable network on July 19, 2007. Instantly gaining cult status, the series ran for seven seasons and ended on May 17, 2015.
"Mad Men" series showed the world a whole scattering of current TV stars, this series    became the springboard for Elisabeth Moss who is now called the "Queen of Modern Television". Also "Mad Men" lit the star of Christina Hendricks.
"Mad Men" TV series created by Matthew Weiner who previously worked on arguably the most booming TV shows of the 2000s, – "The Sopranos".
"Mad Men" series have an incredible number of TV awards in its asset: five "Golden Globes" (out of 13 nominations) and sixteen! "Emmy" awards.
By the way, in "Mad Men" TV series you can hear the composition "Tomorrow Never Knows" from "The Beatles" repertoire. It is curious that this is the only series in the history of television where the song of the legendary band goes as the official soundtrack. It cost as much as $ 250,000 for the right to use this song in the show.
About
American-made television series filmed in the drama genre.
The first season of "Mad Men" TV series premiered on 'AMC' cable network in July 19, 2007.
Related TV Series
House of Cards
The Sopranos
Boardwalk Empire
The Wire
Six Feet Under
Tags: drama, retro, 1960s, advertising agency, New York City, Manhattan, Jon Hamm, Elisabeth Moss, Christina Hendricks