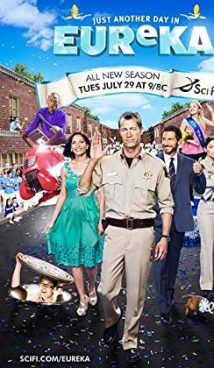 TV-14
01 hours 00 minutes
Synopsis
Welcome to Eureka, a secret town in Oregon, home to some of the world's most brilliant scientists. The average IQ of the inhabitants of Eureka goes off scale, since it is here that the science of the future is being developed.
Jack Carter, a simple bailiff, once accidentally ends up in this town. Being a common man, he is amazed at what he saw in Eureka. The locals offered Jack to become the city's sheriff. Although initially Jack did not know how he could help brilliant scientists, but soon he realized that the luminaries of science lacked some degree of grounded thinking and a sober view of many things.
Having become the sheriff, Jack made the absolutely right decision, since now he can save not only Eureka, but the whole world.  After all, it is completely unknown what the next invention of local geniuses can become.
Interesting Facts
The first season of the TV series premiered on July 18, 2006 on the American Sci Fi Channel. Aired for 5 seasons with 77 episodes in total, the TV show was canceled on July 16, 2012.
It is noteworthy that the creators of the TV show originally conceived "Eureka" as an animated series.
"Eureka" is linked to "Warehouse 13", another sci-fi TV show. It is noteworthy that some characters periodically wander from one TV series to another.
The TV series was filmed in British Columbia (Canada) with Chilliwack and Ladysmith as Eureka.
About
Eureka is an American-made fantasy adventure television series. The first season of the TV show premiered on July 18, 2006 on the Sci Fi Channel.
Related Shows
Warehouse 13
Haven
Stargate: Atlantis
Continuum
Fringe
Tags: science fiction, comedy, adventure, genius scientists, research, experiments