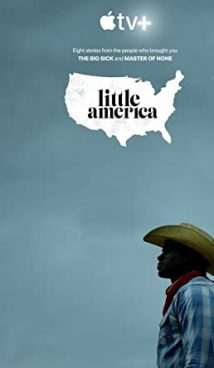 Synopsis
Eight touching stories about immigrants in the United States. Sometimes naive and idealistic, sometimes very touching and inspiring, these stories are based on real-life events, creating an atmosphere of comfort and self-confidence.
There are parents of an Indian boy who are forced to return to their homeland, and the teenager takes over the management of the family motel. There is a student from Nigeria studying in Oklahoma and madly in love with cowboy culture. There is a Hispanic girl whose family lives in a garage, learns what squash is, and becomes a champion in this sport. Each episode is filled with tenderness and kindness, which are sometimes sorely lacking in the TV-series nowadays.
Interesting Facts
Little America ​​was filmed for the new streaming service Apple TV +, where the TV-series premiered on January 17, 2020. Originally, they ordered two seasons, so we are waiting for the announcement of the second season.
Each episode of Little America is inspired by the true stories featured by Epic Magazine, whose employees travel the world in search of something interesting. More than twenty-five Epic articles have found their way to the big screens, including Ben Affleck's Argo, which won three Oscars, including Best Picture of the Year.
Information
This is an American tragicomedy TV-series based on real-life events.
The first season of Little America premiered on January 17, 2020, on the Apple TV+ streaming service.
More Like This
Trying
Amazing Stories
Truth Be Told
Dickinson
Tags: immigration, USA, based on real-life events, drama, comedy, almanac, anthology