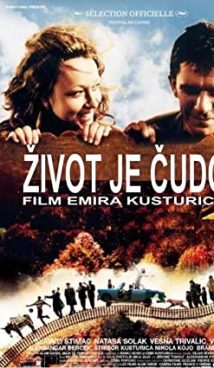 Not Rated
02 hours 35 minutes
Serbian, English, German, Hungarian

7.6
Synopsis
Serb Luka Djuric, the main character of the film, moves to the province with his family. At the new location, he is going to be engaged in the development of the railway, which should connect Belgrade with Bosnia. However, the dramatic events of the 1990s – the collapse of Yugoslavia and the Bosnian War – interrupt the calm course of life. Laughter through tears, tragicomedy instead of tragedy – this is how the director Emir Kusturica, who is well acquainted with these events, wants to show this story.
Interesting Facts
"Life Is a Miracle" ("Живот је чудо") was presented to the public at the Cannes International Film Festival on May 14, 2004. Received a Palme d'Or nomination, this motion picture lost to "Fahrenheit 9/11", a documentary by Michael Moore.
The role of Captain Aleksic was played by Stribor Kusturica, the director's son. Not only starring in some of his father's films ("Zavet", "On the Milky Road" and some others), he is also the drummer for "The No Smoking Orchestra", the band of Emir Kusturica.
The real village named Drvengrad (or Kyustendorf) was built for the filming of the "Life Is a Miracle". Since the houses of this village were not demolished at the end of filming, Kusturica himself lives here with his family, from time to time organizing music and film festivals and simply receiving guests. There is a church, hotel, restaurant, library and, of course, a cinema in Drevengrad. Having previously lectured at Columbia University, Kusturica dreams of opening his own film school in the village.
About
"Life Is a Miracle" ("Живот је чудо") is a tragicomedy co-production film. The movie premiered on May 14, 2004 at the Cannes Film Festival.
Related Films
Black Cat, White Cat (Црна мачка бели мачор)
Underground
On the Milky Road
Tags: comedy, drama, tragicomedy, music, fantasy, Serbia, the former Yugoslavia, Balkans, Emir Kusturica