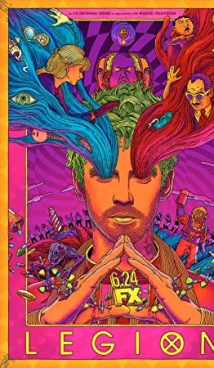 TV-MA
01 hours 00 minutes
Synopsis
You have never seen a comic like this!
Showrunner Noah Hawley takes a character from the X-Men universe and puts him into an incredibly original and surreal world of his creation.
Young man David Haller has been a constant patient of psychiatric clinics since childhood. He has long been diagnosed with paranoid schizophrenia, and David's future is very, very sad. However, one meeting at the asylum turned David's world upside down: he falls in love with a girl named Syd. Then incredible psychedelia begins: body exchange, travel through the psyche and memory, multiple personalities, strange characters, and psychic powers.
Legion is an unforgettable TV-series that attracts attention for a long time. The authors play with a non-linear storyline and an "unreliable storyteller" trick. Everything is difficult to understand, and sometimes sudden insights into what is going on in the on-screen reality add special pleasure. The series easily breaks both the serial framework and the principles of superhero cinema.
Interesting Facts
The first episode of Legion premiered on January 26, 2017, on FX. The episodes aired weekly until the end of March. Shortly before the finale, it was announced that the series (which became a revelation for viewers and critics) received another season, which started a year later. Legion lasted three seasons and finished on August 12, 2019.
The Legion showrunner, Noah Hawley, is most famous for Fargo, one of the iconic TV-series of the decade. In 2019, it was announced that the Paramount film studio had invited Noah to work on a new film in the Star Trek universe. Hawley has already finished writing the script that tells about a galactic epidemic. The film with a very relevant topic is still in the preproduction stage.
Information
This is an American fantasy drama TV-series based on a character created by Marvel.
The premiere of the first season of Legion took place on January 26, 2017, on the American channel FX.
More Like This
Runaways
Fargo
Daredevil
Gifted
Tags: comic, psychedelia, fantasy, fantasy, drama, adventure