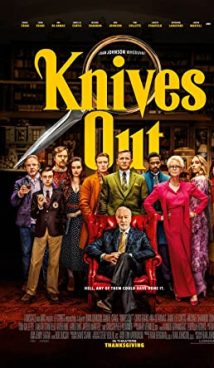 PG-13
02 hours 10 minutes
English, Spanish, Hindi

7.9
Synopsis
The jubilee of the elderly and very wealthy writer Harlan Thrombey turns into his funeral: after the festivities, the hero of the day is found with his throat cut. At first, everyone considers his death a suicide, but after the funeral, police officers and a private detective Benoit Blanc appear on the threshold of the luxurious estate. The servants of the law have an understandable suspicion that someone helped pass Mr Thrombey. Blanc interrogates all the witnesses, and every relative of the writer is under suspicion. The family mansion turns into a dwelling of people who hate each other.
Did You Know?
Knives Out premiered to the public on September 7, 2019 at the Toronto Film Festival. All autumn after that, the movie traveled to various international film shows, until it was released on November 27, 2019. The movie is now available to subscribers of streaming services.
The film Knives Out was nominated for an Academy Award for Best Original Screenplay but lost to Parasite.
The film won the Costume Designers Guild Award, and Chris Evans's sweater became a real meme on the Internet. By the way, Evans posted a photo of his dog in a similar sweater on his Twitter page.
Prior to the film's premiere, director and scriptwriter Ryan Johnson said that he would love to direct another film about the investigation of detective Benoit Blanc. In the winter of 2020, Lionsgate gave the green light to the sequel and Johnson began writing the script. Daniel Craig will return to his role.
Information
An American-made detective film. The world premiere of Knives Out took place on September 7, 2019 at the Toronto International Film Festival.
More Like This
Gosford Park
Death On The Nile
Murder on the Orient Express
Tags: Drama, Murder, Investigation, Inheritance, Christopher Plummer, Daniel Craig, Jamie Lee Curtis, Chris Evans