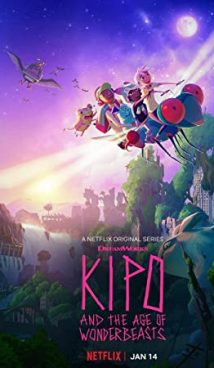 Synopsis
Kipo and the Age of Wonderbeasts animated series shows a post-apocalyptic world. People who managed to survive are forced to live in a dungeon for many years. However, above – among the deserted ruins of civilization – life is in full swing. The evolved animals create their own clans, sometimes terribly reminiscent of the human race. Once the restless girl Kipo got to the surface, she caused a stir in this new world. Having met new friends here, Kipo together with them tries to return back to the dungeon. However, not everything is so simple – in the new world there are forces that with all their might resist courageous people.
Interesting Facts
Season 3 of the animated series  premiered on October 12, 2020 on the Netflix streaming platform, and all episodes are available for viewing. Unfortunately, the animated series was not renewed for a fourth season.
Kipo speaks in the voice of Karen Fukuhara, an actress best known for her role as Katana in the "Suicide Squad" movie and Kimiko in "The Boys" TV series.
The story of the girl Kipo was originally presented as a web comic series. The DreamWorks bosses had plans to shoot a full-length cartoon. However, in order to fully reveal all the features of the Kipo world, the project was reformatted into an animated series.
With the first season premiered on January 14 and the second season premiered on June 12, all three seasons of the animated series were released during 2020.
About
Kipo and the Age of Wonderbeasts is an American-made animated cartoon based on the 2015 Kipo comic in the fantasy adventure genre. Season 3 of the animated series premiered on October 12, 2020 on Netflix.
Related Shows
She-Ra and the Princesses of Power
Wizards: Tales of Arcadia
Harley Quinn
Tags: cartoon, animation, adventure, fantasy, post-apocalypse