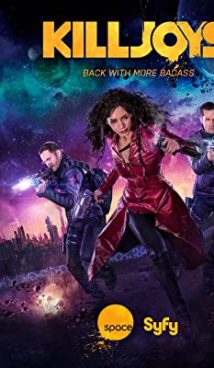 Synopsis
The action of the TV series takes place in the near future at the planetary station Quad. The focus is on Dutch (Hannah John-Kamen) and John (Aaron Ashmore), bounty hunters who have worked in pairs for several years. However, this partnership will be tested, as John's brother D'avin (Luke McFarlane) has joined them. Having got used to each other over time, the members of the small team continue their incredible adventures in the depths of space.
Interesting Facts
The pilot episode of the TV show was released on June 19, 2015 on the US "Syfy" and the Canadian "Space". Lived for five seasons, the TV series was canceled on September 20, 2019.
Although "Killjoys" is a Canadian TV series with local cast members (Aaron Ashmore from British Columbia and Luke Macfarlane from Ontario), it also stars a British actress. Born in the UK, Hannah John-Kamen has made a name for herself to the world on numerous occasions over the past decade. Her career dates back to 2011 when she voiced one of the characters in the video game "Dark Souls". She then starred in a number of TV shows – "Skins", "Game of Thrones", "Black Mirror", "Killjoys" and "The Stranger". Hannah also played a character from the MCU (blockbuster "Ant-Man and The Wasp" released in 2018). Rumor has it that Hannah's character Ghost will be used again in the film franchise in the near future. The "Resident Evil" reboot movie, which is slated to premiere on September 3, 2021, is Hannah John-Kamen's next project.
About
Killjoys is a Canadian-made sci-fi thriller television series. The first season of the TV show was premiered on June 19, 2015 on Space TV channel.
Related Shows
Dark Matter
Defiance
Continuum
Falling Skies
The Expanse
Stargate: Atlantis
Tags: science fiction, space, adventure, drama, thriller, bounty hunters