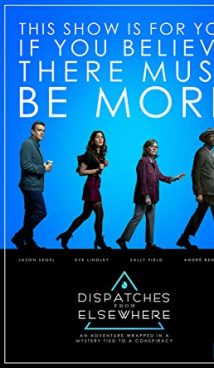 Synopsis
The series is a mystery wherein sometimes it is completely unclear what is happening.
Four residents of Philadelphia are involved in a very strange quest game where they have to solve puzzles, travel around the city and meet pretty strange characters. However, in the beginning, they don't even suspect where this game will lead them and what they will discover in themselves.
 Interesting facts
Oddly enough, but Dispatches from Elsewhere series is based on a very real story. In 2008, an alternative reality game called theJejune Institute began in San Francisco, which brought together more than 10,000 participants over three years.
A documentary about theJejune Institute was shot in 2013, which served as the basis for Dispatches from Elsewhere.
Jason Segel, the showrunner of the series, is also the author of the script. In addition, he played a major role and also directed the first episode.
Initially, the script did not indicate which city the game was in. However, following that Philadelphia became almost a character in the series.
 Information
The American-made TV series is based on the documentary drama called The Institute.
The first season premiered on March 1, 2020 on the AMC channel.
You can watch the series trailer online on the website without registration.
 FAQ
What channel is producing the series?
Dispatches from Elsewhere was commissioned by the AMC American channel.
When did the first season come out?
The first episode premiered on March 1, 2020. The final series of the season was released on April 27, 2020.
Showrunners have not yet officially announced the continuation of the series.
Tags: drama, riddles, mystery, quest, Philadelphia