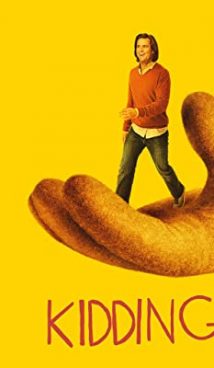 Synopsis
Jeff Piccirillo (Jim Carrey) is a man full of pain. His son died in a car accident and later on he broke up with his wife. Nevertheless, every day he plays the role of Mr. Pickles, who is the TV host of extremely popular TV show for children. He is the spokesperson of a multi-million dollar brand and he has to wear a smiling mask every day. Jeff is clumsy trying to change the accents of the show and tell young viewers what the death is, for example, but the executive producer of the show (and Jeff's father in parallel) does not want to change anything.
In this tragicomic series, Jim Carrey is trying once again to show that he is not just a comedian; and Michel Gondry, the great video maker, wants to prove that he can shoot not only music videos. How convincing these attempts are for the viewers to decide. The result is a touching series, which is worth the time.
Interesting facts
Kidding is the second joint work of Jim Carrey and Michel Gondry. Fifteen years before the series, the cult-favorite Eternal Sunshine of the Spotless Mind was released. The film won the Academy Award for the Best Original Screenplay and appears to be the best Jim and Michel did in the industry.
In 2019, the series was nominated for two Golden Globe awards, but did not receive a single one.
One of the dolls for Mr. Pickles' show was made by Jim Carrey himself. Its name is Oops and it allows children to make mistakes.
Information
The American-made TV series shot in the tragicomedy genre.
The second season premiered on February 9, 2020 on the Showtime channel.
You can watch the series trailer online on the website without registration. You can also find interesting facts about the series and find out the release date in Russia.
FAQ
What channel is producing the series?
Both seasons were commissioned by the Showtime channel.
No, Showtime cancelled the show after the second season.
Related Series
Miracle Workers
Barry
On Becoming a God in Central Florida
Tags: tragicomedy, TV show for children, dolls, fiction, drama, death of loved ones, Michel Gondry, Jim Carrey