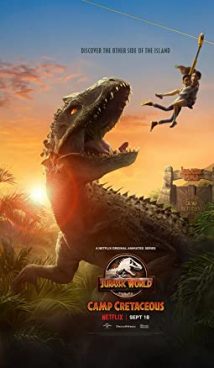 Synopsis
Going to school camp located on Nublar, an infamous island, six teenagers doomed themselves to the most dangerous adventures of their lives. Giant reptiles that have escaped from their enclosures want to satisfy their hunger by tasting human flesh. Teenagers have to escape from dangerous creatures and quickly master the skills of survival in this wild environment.
Interesting Facts
The Mesozoic era consists of several periods including the Triassic, Jurassic, and Cretaceous, following each other. According to scientists, it was during the Cretaceous period that the meteorite that destroyed the dinosaurs fell to the Earth.
Jurassic Park, a novel by Michael Crichton, is the starting point for a franchise about an ancient creature sanctuary. Crichton is known as a writer, producer and screenwriter. As for The Westworld starring Yule Brynner, this film was directed by Crichton according to the script written by him. The Westworld TV series, a modern multi-part remake of this film, has won the hearts of viewers over the past few years.
The Jurassic Park franchise includes three novels, several short stories, about ten comics, five feature films, a short film, a play, an animated series, and a dozen video games. Jurassic World 3, the sixth film in the franchise to bring back all the main characters in the trilogy, will premiere on July 11, 2021.
About
Jurassic World: Camp Cretaceous is an American-made animated series based on the Jurassic Park franchise in the fantasy adventure genre. The first season will premiere on September 18, 2020 on the Netflix platform.
Related Shows
Trollhunters: Tales of Arcadia
The Dragon Prince
The Legend of Korra