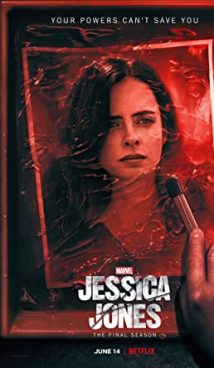 Synopsis
Noir detective in the world of superheroes sounds very intriguing!
Jessica Jones received incredible strength as a child. However, unlike Captain America, Spider-Man, or Superman, she does not wear spandex, nor comes up with a fancy nickname, nor rushes around the world fighting for justice.
She is trying to work as a private detective. And drinks a lot.
The past catches up with Jessica when she meets Kilgrave again, a villain who can control anyone's mind. Before, Jones was associated with Kilgrave, but now she is afraid to face him. Besides, once the villain made Jessica kill a man, and she often sees it in her nightmares.
A confrontation between two people with unusual abilities begins …
Interesting Facts
All episodes of the first season of Jessica Jones were released on November 20, 2015. Season 2 premiered on March 8 (probably no coincidence), 2018. The third and final season is available on Netflix from June 14, 2019.
Jessica Jones is a fairly recent character in the Marvel comic universe. Her first appearance on the pages of a graphic novel happened only in 2001. Unlike the series, in the comics, she was a member of the Marvel team, wore suits, was even married to Luke Cage, and together they had a daughter Danielle.
The TV-series became part of a small television universe, which also includes Daredevil, Luke Cage, Iron Fist, The Punisher, and the crossover Defenders.
The role of Kilgrave was played by the excellent British actor David Tennant, a star of theater, film, and television. In 2020, he played villains twice — in the TV-series Des and Deadwater Fell. We will soon see him as Phileas Fogg in another screen adaptation of Around the World in 80 Days.
Information
This is an American sci-fi thriller TV-series based on Marvel comics.
The first season of Jessica Jones premiered on November 20, 2015, on the Netflix streaming service.
More Like This
Daredevil
Luke Cage
Iron Fist
Defenders
The Punisher
Tags: comic, superhero, drama, thriller, noir, New York, Marvel