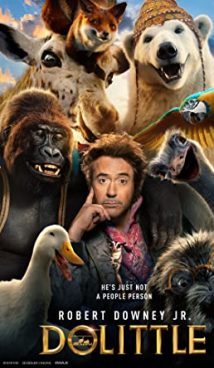 Synopsis
Dr. Dolittle, an internationally renowned veterinarian with an ability to communicate with animals, has stayed on his estate for many years, and his wife's death was the reason for his isolation. The doctor has not communicated with the outside world for seven years, and the animals – which are his only friends – are next to the veterinarian in the most difficult moments of his life.
However, when Victoria, Queen of Great Britain, asks Dolittle to help her cope with a rare disease, our hero with his four-legged friends goes to the distant island of Eden to get a fruit that will cure the monarch from a serious illness.
Interesting Facts
Dolittle film was the first blockbuster of 2020. Premiered on January 1, 2020 in New Zealand, it reached US cinema screens two weeks later. On April 16, 2020, in the midst of the coronavirus pandemic, its digital release took place on popular streaming platforms.
Dolittle not only disliked film critics, but also flopped at the box office. According to the latest figures, the project brought in losses of $ 100 million to Universal Studios.
This film caused another meeting between Robert Downey Jr. and Tom Holland outside of the MCU. Tom Holland worked on the voice acting of the dog named Jeep, who accompanies the main character everywhere. As for Kumail Nanjiani who voiced Plympton the ostrich, his MCU debut will take place in the near future. Kumail will play the Kingo superhero in the 2021 blockbuster titled "The Eternals".
About
Dolittle is an American-made film based on the eponymous series of books by Hugh Lofting in the adventure genre. The world premiere of the film took place on January 2020.
Related Films
Maleficent: Mistress of Evil
The Call of the Wild
Artemis Fowl
Tags: adventure, film adaptation, remake, fairy tale, travel, talking animals, Robert Downey Jr