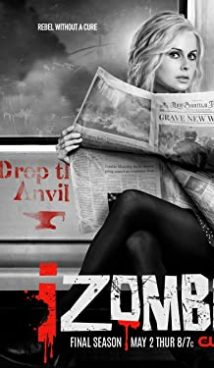 Synopsis
Having decided to take a break from the difficult working days, a young doctor Olivia Moore from Seattle decided to go to a party. However, she soon finds herself in a body bag.
As a result of the strange events that took place at the party, Olivia turned into a zombie – however, not such a walking dead as we used to imagine these creatures.
Still able to think and without rotting flesh, Olivia continued to work as a doctor. However, she had to transfer to the morgue where the police deliver the dead bodies. Here Olivia can avoid unnecessary questions and get brains that she uses for food. It is noteworthy that after eating a piece of the dead man's brain, Olivia sees a short moment in the life of the one to whom it previously belonged. So, the girl becomes useful to the detective Babineaux, whom she assists in solving the murders.
Interesting Facts
Season 1 of the TV series was released on March 17, 2015 on The CW. Airing over five seasons, the TV show was canceled on August 1, 2019 with the final episode released under the title "All's Well That Ends Well".
"iZombie" is based on the concept of a series of graphic novels of the same name published in 2010-2012 – however, the showrunners changed the name, profession, place of residence of the main character and some other things during the film adaptation. Curiously, the ghost and the werewolf terrier are among the friends of the main character in the graphic novel.
 About
iZombie is an American-made fantasy tragicomedy TV series based on the comic book series of the same name. The first season of the TV show was premiered on March 17, 2015 on the American channel "The CW".
Related Shows
Preacher
Grimm
Santa Clarita Diet
Chilling Adventures of Sabrina
Z Nation
Tags: detective, science fiction, zombie, investigation, police, forensic scientist, black comedy, drama, film adaptation, comic book