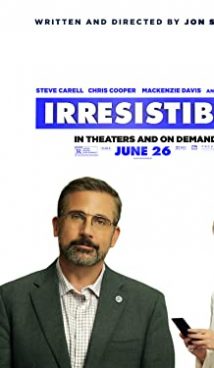 Synopsis
Jack Hastings (Chris Cooper), a retired US Army colonel, lives in a small town in Wisconsin. A former military man attends a meeting of townspeople and delivers a speech in defense of illegal migrants. The video of his performance goes viral on the net. The Democratic Party of the United States, still experiencing failure after the 2016 presidential election, understands: there it is!
Successful political strategist Gary Zimmer (Steve Carell) travels to Wisconsin, finds Jack there and invites him to run for mayor of his hometown from the Democratic Party. The Republican Party also does not sleep and sends its representative to Wisconsin – Faith Brewster, with whom Zimmer knows too well …
Irresistible is a film about opposites. Republicans versus Democrats, man versus woman, village versus city – all this sets the tone for a very good comedy, which may seem entertaining even to a person who is very far from politics.
Did You Know?
Irresistible was originally set to premiere on May 29, 2020, but due to closed cinemas, the release in the US and UK has been pushed online. The film became available to the public on streaming services on June 26, 2020.
The film was directed by Jon Stewart, a television producer, screenwriter and presenter, who has won 22 Emmy awards. It's funny that Jon doesn't support any of the American political parties.
Irresistible was inspired by Georgia's 2017 election. It was the most expensive congressional election in US history, with Republicans and Democrats spending over $ 55 million in a single constituency.
Information
An American-made political comedy film. The world premiere of Irresistible took place on June 26, 2020.
More Like This
Bad Education
The King of Staten Island
Vice
Tags: Politics, USA, Elections, Democrats, Republicans, Comedy, Steve Carell