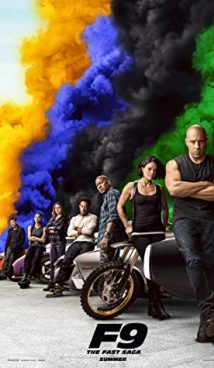 Synopsis
Dominic Toretto (Vin Diesel) is enjoying a quiet life with his wife and their son when suddenly it is interrupted by the arrival of Dominic's younger brother Jacob (John Cena), a deadly assassin who holds a personal vendetta against him. While trying to figure out his way through this, Dominic is approached by his old enemy Cipher (Charlize Theron) offering her help. Should he trust Cipher, or is he treading on dangerous ground?
Did you know?
The already impressive F9 cast also features musicians Cardi B and Bow Wow.
F9 suffers a case of constant release delays. It was originally scheduled to release on April 19, 2019 but was pushed back by a year ― to April 10, 2020 ― after Hobbs & Shaw spin-off (starring Dwayne Johnson and Jason Statham) was announced. With the outbreak of COVID-19, F9 release was further delayed and moved to April 1, 2021. Hopefully, we will get to see it then.
Who is not back to the F9 franchise? We will not see Dwayne Johnson, Jason Statham, Luke Evans, Kurt Russell, Scott Eastwood and Kristofer Hivju.
The next chapter of The Fast Saga will see the returns of Vin Diesel, Michelle Rodriguez, Jordana Brewster, Charlize Theron, Helen Mirren, Tyrese Gibson, Ludacris and Lucas Black.
F9 will see the debut of John Cena and Michael Rooker.
Director Justin Lin ― who helmed 2006's The Fast and the Furious: Tokyo Drift, 2009's The Fast & The Furious, 2011's Fast Five and 2013's Fast & Furious 6 — also returns.
Overview
F9 is an American action film scheduled to release worldwide on April 1, 2021.
Please visit our website to watch F9 trailer online and check out interesting film trivia and a release date. No signup required.
Frequently asked questions
– When will the film have its world premiere?
After yet another delay, F9 is finally set to launch globally on April 1, 2021.
– Where was F9 shot?
Apart from the US, UK and Thailand, the film was shot in Tbilisi, with high-octane races taking place on Freedom Square, Pushkin Street and Rustaveli Avenue.
See also
Hobbs & Shaw
Furious 7
Furious