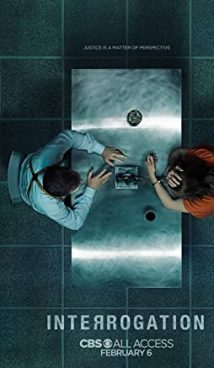 Synopsis
A non-linear crime series that is centered around an interrogation of people who might be involved in a decades-old murder case.
New detective series Interrogation tells us the story of Eric Fisher (Kyle Gallner), who is behind the bars being convicted of killing his mother. Nevertheless, is he at fault? Was there a competent investigation? Why does detective David Russell (Peter Sarsgaard) so pointedly hate Eric?
Upon trial, Eric Fisher admits his guilt, but once he found himself in prison, he withdraws his testimony and filed appeals over and over again. Only the last episode of Interrogation reveals the truth about Eric Fisher: is he an innocently convicted or a cold-blooded killer?
In order to find out the truth, we need to not only see the events of that ill-fated day, but also plunge to the very bottom of sultry Los Angeles.
 Interesting facts
Interrogation series was shot in a new original format. According to the assurances of the showrunners, it is necessary to watch the first episodein the beginning, then the viewers may watch from the second to the ninth episode in any order, and at the end it is necessary to watch the last series.
Wonderful actor Peter Sarsgaard has nothing to do with the Swedish Sarsgaards family overmastering Hollywood. Furthermore, he became the son-in-law of Jake Gyllenhaal, marrying his sister Maggie, who is also an excellent actress.
 Information
The American-made TV series shot in the crime drama genre. It is based on real events.
The first season premiered on February 6, 2020 on the CBS channel.
You can watch the series trailer online on the website without registration.
 FAQ
What channel is producing the series?
Interrogation was commissioned by the CBS All Access broadcast network.
When did the first season come out in Russia?
The entire season is already available to subscribers of the Amediateka service.
Although showrunners suggest an anthology, there has not yet been an official statement to extend the series.
Tags: detective, murder, investigation, innocently convicted, based on real events