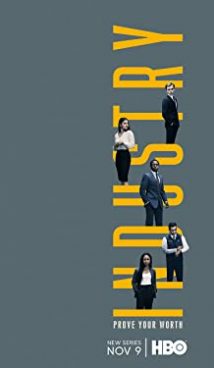 TV-MA
06 hours 37 minutes
Synopsis
'Pierpoint & Co' Investment Bank is one of the heavyweight financial companies in the UK. The best university graduates come here from both sides of the Atlantic to compete for a limited set of permanent positions. From the very first episode which starts with interviewing the contestants, the series focuses on the stories of five youngsters who have to choose their own strategy to prove the bosses that you're the best. The viewers are given a fresh and complex look from the inside on workplace culture. "Industry" TV series recalls us on how uneasy it was to navigate life in your early twenties, – with all those thrills, failures and victories.
"Industry" TV series is a very harsh but exciting story about how many red lines each of these young people ready to trespass to become the biggest star of the show.
Trivia
"Industry" TV series was filmed for the British "BBC" network where it was released on November 10, 2020. Overseas, the serial drama premiered a day earlier, on the American 'HBO' channel on November 9,
Shortly after the finale of the first season, "Industry" TV series received an extension for a second season, the release date of which is still unknown.
"Industry" showrunners Mickey Down and Konrad Kay previously worked in the financial sector themselves, so it can be assumed that this is how work in investment banks proceeds. Incidentally, "Industry" TV series was their first co-experience in series production.
About
A British-American co-production television series filmed in the drama genre.
The first season of the "Industry" TV series premiered on 'HBO' on November 9, 2020.
Related TV Series
A Teacher
I May Destroy You
Succession
We Are Who We Are
It's a Sin
Tags: drama, London, financiers, college graduates, trainees, investment bank