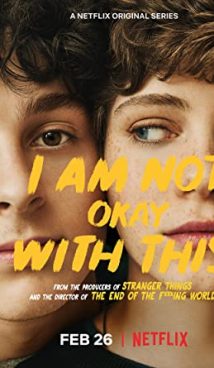 Synopsis
Sydney Novak (Sophia Lillis) is the ordinary high school student from a small American town. She rails against her mother, fights with her best friend's boyfriend, pops zits and tries dealing with her libido. Someday something supernatural wakes up in this girl. Sydney realizes that she can move objects. At first she thinks that this is an awkward age; but then she discovers that her father, having committed suicide, could also have done so.
Attempts to understand what is happening to her lead to bloody consequences.
Interesting facts
I Am Not Okay With This is an adaptation of the similarly-named graphic novel by Charles Forsman. Previously, the cult The End of the F***ing World series was filmed based on his works.
This series is also related with The End of the F***ing World by the showrunner Jonathan Entwistle. Another producer, Shawn Levy, is involved in the Mega Hit named Stranger Things. The influence does not go unnoticed: I Am Not Okay With This sometimes seems like a hybrid of these two series.
Young actors, Sophia Lillis and Wyatt Oleff, are not the first time to meet on the film set: previously, they acted together in the blockbusters named It and It 2. By the way, Oleff's hero is called Stanley both in the films and in the series.
The moment Sydney walks around the town in a bloodied dress is a reference to the classic Kerry of 1976, an adaptation of Stephen King's novel.
Information
The American-made TV series is based on the similarly-named graphic novel by Charles Forsman and shot in the fantastic comedy genre.
The first season premiered on February 26, 2020 on the Netflix platform.
You can watch the series trailer online on the website without registration. You can also find interesting facts about the series and find out the release date in Russia.
FAQ
What channel is producing the series?
Netflix streaming platform.
When did the first season come out?
All episodes of the first season are available from February 26, 2020.
Netflix cancelled the show after the first season.
Related Series
Stranger Things
The End of the F***ing World
13 Reasons Why
Tags: comedy, superpowers, comic book, film adaptation, teens, telekinesis, school