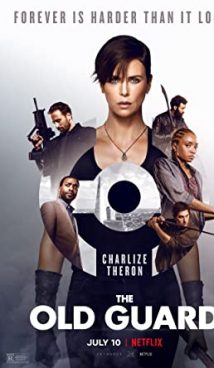 Synopsis
As in any respectable fantastic action movie, we find ourselves in the epicenter of the struggle between the good and the evil. This time, the good ones are a group of warriors who are not easy to kill. Their leader is Andromache of Scythia (Charlize Theron).
Andromache learns that a new immortal warrior has appeared somewhere and decides she needs her in her team. At the same time, a group of bad guys, led by Copley (Chiwetel Ejiofor), are trying to get the DNA of an immortal warrior by all means to create a new weapon.
Interesting Facts
– The movie is available to Netflix subscribers all over the world.
– Recently, the Oscar winner Charlize Theron has increased her presence in action films, such as "Fast and Furious," "Mad Max," "Atomic Blonde", and now "Immortal Guard". But Charlize recently admitted that her skills and interest in the genre did not win her Marvel Studios' attention.
– Chiwetel Ejiofor, on the other hand, who portrays the main villain in the "Immortal Guard," has already got into the superhero epic. He starred in "Doctor Strange" with Benedict Cumberbatch and will return to his role in the sequel, which will premiere in two years.
– By the way, two actors from the "Immortal Guard" appeared in cinematic versions of classic Disney animated movies as villains. The aforementioned Chiwetel Ejiofor voiced Scar in "The Lion King," and Marwan Kenzari played Jafar in "Aladdin."
– According to ancient Greek myths, Andromache did not come from Scythia at all, but Thebes. Andromache was the wife of Hector, Prince of Troy.
Information
This is an American-made fantastic action movie based on the graphic novel series of the same name.
The world premiere took place on July 10, 2020 on the Netflix streaming platform.
More Like This
Atomic Blonde
Mad Max: Fury Road
The Fate of the Furious
Red Sparrow