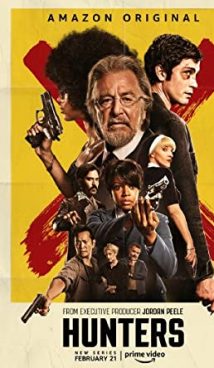 TV-MA
01 hours 00 minutes
Synopsis
New York, 1977. Steaming hot summer and the disco sounds everywhere. Jewish young man Jonah works at a comic book store and does his best to help his grandmother, who is a former prisoner of concentration camps. One night, someone breaks into a house and kills the grandmother. Once this is done, the terrible truth is revealed to Jonah: hundreds of Nazis moved to America from Germany and are trying to create the Fourth Reich there. Jonah discovers that his grandmother was a member of the Jews secret team that preys on the Nazis. He takes her place and thanks to his mathematical abilities becomes a full member of the group of hunters. In addition to him, the team includes philanthropist Meyer Offerman (Al Pacino), an elderly Jewish couple, a fighter girl, an actor and a nun.
Interesting facts
This is the first role of Al Pacino on TV for 17 years after the Angels in America, wherein he has got the Golden Globe for his role.
Logan Lerman, the lead actor, has already fought with the Nazis in the Fury (2014). By the way, Logan's grandfather was born in Germany in a Jewish family and fled from the Nazis in Shanghai.
The Operation Paperclip, which is mentioned in the series, really took place after the Second World War. At that time, the US intelligence organizations recruited scientists from the Third Reich.
The Auschwitz-Birkenau Museum criticized the series, saying that the scriptwriters could talk about the real crimes of the Nazis instead of the fictitious atrocities of the concentration camp leadership (playing human chess, for example).
Information
The American-made TV series shot in the crime drama genre.
The first season premiered on February 21, 2020 on Amazon Prime.
You can watch the series trailer online on the website without registration. You can also find interesting facts about the series and find out the release date in Russia.
FAQ
What channel is producing the series?
The series was commissioned by the Amazon Prime platform.
When did the first season come out?
The whole season is available from February 21, 2020.
Amazon announced the second season.
Related Series
The Man in the High Castle
Boys
Tags: crime drama, hoax, Holocaust, Al Pacino, Logan Lerman, Jordan Peele, New York, 70s