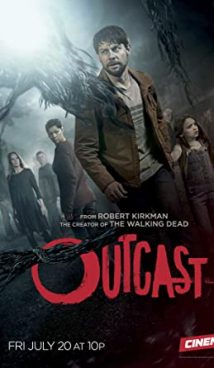 TV-MA
01 hours 00 minutes
Synopsis
A young guy Kyle Barnes, whom all the neighbors are afraid of, lives in a small town located in West Virginia. Kyle's notoriety is due to the fact that there are rumors in the city that he is a man possessed by dark forces – by the way, Barnes himself believes so.
One day, the protagonist helps Reverend John Anderson, a local priest, in a ritual of casting out demons that a boy named Joshua is possessed by. Since then, the exorcist has been using Kyle's help frequently. However, Barnes himself dreams of a normal life for an ordinary person.
Interesting Facts
The pilot episode of the television series was aired on June 3, 2016 on the US television channel Cinemax. Three months before the official premiere, it became known that "Outcast" was renewed for a second season, which was to premiere in the spring of 2017. However, Cinemax decided not to renew the TV show for a third season.
Robert Kirkman, author of the comic book series that became the basis for the series, is the showrunner for "Outcast". "Walking Dead" is another famous TV show based on graphic novels by Kirkman. The animated series "Invincible", another adaptation of the comics by Robert, will premiere in 2021. It is noteworthy that the main character of the animated series speaks in the voice of Steven Yeun, known for playing the role of Glenn in the "Walking Dead".
Unlike the TV series – which has been canceled – the "Outcast" graphic novel series continues to be published with the latest issue dated February 11, 2021. It is noteworthy that work on the series began immediately after the publication of the very first comic "Outcast" in 2014.
About
Outcast is an American-made mystical thriller television series based on the comic book series of the same name by Robert Kirkman. The first season of the TV show was premiered on June 3, 2016 on Cinemax.
Related Shows
Walking Dead
Preacher
The Exorcist
Sleepy Hollow
Channel Zero
Tags: horror, drama, mystic, thriller, supernatural, demons, obsession, small town, Robert Kirkman