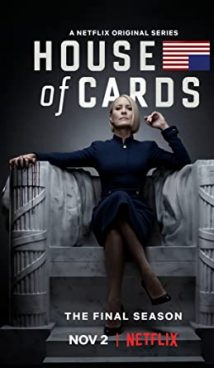 Synopsis
Welcome to the world of upstream and 'dirty' politics, to the backstage full of exquisite revenge and manipulative intrigues! The main character of the series "House of Cards" (to call him 'a hero' would be awkward) is a Congressman Francis Underwood who sees no obstacles on his way to satisfy his irrepressible political ambitions. Dashing, cunning, methodical and vicious, Frank is surrounded by people of the proper format. Whilst watching the series, it becomes clear that when a person goes into politics, he or she must forget on conscience, principles of morality, and thoughts about compatriots. This world from now on is just a deep muddy sea teeming with creepy sharks and piranhas.
Despite the fact that watching "House of Cards" series is not an idle pastime in front of the screen, it is a very, very addictive series which expose us the unwritten rules of probably the dirtiest game in the world.
Trivia
 "House of Cards" TV series was filmed for 'Netflix' streaming platform that has become the first high-profile project of the future online giant. The entire first season of the multi-part political thriller was released on February 1, 2013. Then the seasons came out annually. However, a sex scandal involving the leading actor Kevin Spacey broke the successful development of "House of Cards". The actor did not make it into the sixth season which was the last for the series.
"House of Cards" was the first online platform series to be nominated for an 'Emmy' award. All in all, the TV show won two 'Golden Globe' awards and seven 'Emmys'!
About
American-made television series, filmed in the genre of political thriller based on the 1990 British TV series of the same name and the novel by Michael Dobbs. The first season of "House of Cards" premiered on February 1, 2013 on the 'Netflix' streaming platform.
Related TV Series
House of Cards (1990)
Mindhunter
Narcos
Tags: drama, thriller, politics, Netflix, USA, Kevin Spacey, Robin Wright