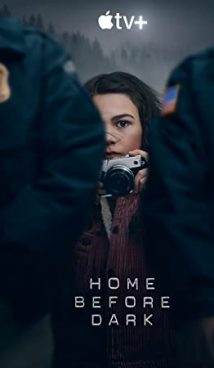 Synopsis
"Home before dark", these are Matthew's (Jim Sturgess) parting words to his daughter. They moved from Brooklyn to a sleepy town. He worked as a reporter in New York. His daughter, Hilde, is no less passionate about journalism than her father and even publishes her newspaper. In a new place, she immediately begins thirty years old investigation into the abduction of a local boy. The town is full of secrets, and Hilde will not stop until she reveals everything!
Sure enough, the new project by Apple TV Plus streaming platform is intended for a young audience. However, it will also allow adults passing a couple of evenings on TV, as there are detective intrigues, good acting work, and a pleasant atmosphere of a small town in Home Before Dark.
Interesting facts
The heroine character is based on the real girl Hilde Lysiak, who has become famous throughout America. She became the youngest member of the Society of Professional Journalists. On top of everything else, the thirteen-year-old Hilde is a co-author of six books based on her reports.
The series is completely filmed in British Columbia, Canada.
Despite young age and short filmography, the young actress Brooklynn Prince has more than ten film awards for her role in The Florida Project film.
Information
The American-made TV series shot in the teenage detective genre.
The first season premiered on April 3, 2020 on Apple TV Plus.
You can watch the series trailer online on the website without registration. You can also find interesting facts about the series and find out the release date in Russia.
FAQ
What channel is producing the series?
Home Before Dark is released on Apple TV Plus streaming platform.
When did the season come out?
The entire season is available from April 3, 2020.
Related Series
Dark
Locke & Key
Riverdale
Tags: detective, teens, small town, abduction