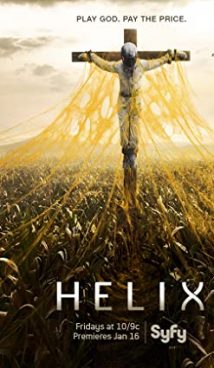 Synopsis
Amidst permafrost Arctic ice, in a biochemical laboratory a horrible thing happened: the deadly virus code-named 'Narvik' has broken free. Now, not only the Arctic station is under the fatal threat but the whole world: as soon as 'Narvik' gets to the 'mainland', the all-consuming pandemic will begin. Now all the responsibility lies on the team of scientists which the Center for Disease Control and Prevention (CDC) urgently sends to the Arctic lab. Their mission is clear but terrifying: to lock the virus back and to prevent spreading it among humans.
The first season of "Helix" TV series is focused on the events in the Arctic laboratory, but then it seems like the writers messed up a bit and decided to run out of this idea. In the second season the already familiar scientists head to another remote and isolated place. This time, it is the island of St. Germain, inhabited by members of a religious community, where the mycosis epidemic is about to outbreak. The mission is unwavering: to save human lives, to isolate the virus and to seek treatment for it.
Trivia
"Helix" TV series was filmed by order of the American channel "Syfy", where all 26 episodes of the TV show was released. After the second season of "Helix" TV series, it was decided to cancel it. The last episode premiered on April 10, 2015.
Initially, "Helix" TV series was conceived as sequel to the classic horror film "The Thing" directed by John Carpenter. Frank Darabont, director of "The Shawshank Redemption", was supposed to work on this project. However, over time, the project was greatly changed and came to us already in the form of a series about a dangerous virus.
Here stared Billy Campbell, a 'Golden Globe' nominee. After the "Helix" finale, Campbell decided to film his own detective series. In the "Cardinal" crime drama TV series, he plays the main character, a Canadian police detective John Cardinal who investigates crimes in the fictional city of Algonquin Bay.
About
A US-Canada co-production television "Helix" TV series filmed in the horror fantasy thriller genre. The first season of "Helix" series premiered on the "Syfy" channel on January 10, 2014.
Related TV Series
Extant
Under the Dome
Ascension
Tags: drama, fantasy, epidemic, drama, thriller, infection