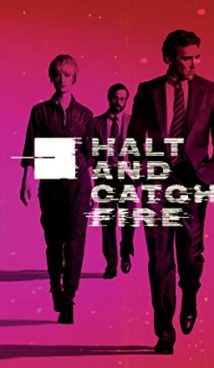 TV-14
01 hours 00 minutes
Synopsis
Set back in the 1980s, the "Halt and Catch Fire" TV series depicts the earliest days of high-tech era when IT revolution and personal computing boom are about to break out. A former IBM employee decides to take an incredible step – to create his own computer that would be able to compete with the first PC analogues. To do this, Joe McMillan (that's the name of this risky guy) joins Cardiff Electric Co. and surrounds himself with a team of brilliant computer scientists. Now, together with the engineer Gordon Clark and the programmer Cameron Howe, Joe starts working on a device that will revolutionize the entire world. And very likely that these three prodigies and their innovation will be included in the history books of the 20th century. Or not: it all depends on their personal energy and the collective courage of the talented computer team.
Trivia
The TV series "Halt and Catch Fire" was filmed for the American cable network 'AMC'. The very first episode was shown on May 8, 2014 at the 'South by Southwest' sci-fi festival, and a month later the TV show has already reached to a regular viewer. The pilot episode's premiere took place on June 1, The series was renewed several times and finished on October 14, 2017. There were four seasons in total.
According to Lee Pace, who played Joe McMillan, his character is a composite image of Steve Jobs, Patrick Bateman from "American Psycho" and Don Draper from "Mad Men".
By the way, 'Cardiff Electric Co.', in which Joe McMillan continued developing his new device, has a historical prototype. This is 'Compaq' Company which in reality was quite successful and at one time even breathed down the IBM's neck. 'Compaq' lasted until 2002 when it was acquired by Hewlett-Packard Enterprise.
About
American-made television series filmed in the drama genre. The premiere of the first season of the "Halt and Catch Fire" TV series took place on June 1, 2014 on the 'AMC' TV channel.
Related TV Series
The Americans
Mad Men
Silicon Valley
The Newsroom
Devs
Tags: drama, retro, 1980s, computers, IT, cybernetics, Lee Pace, Scoot McNairy