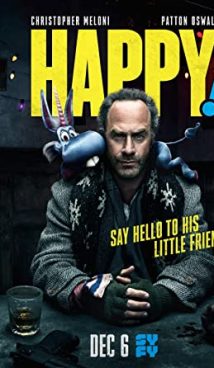 TV-MA
01 hours 00 minutes
Synopsis
One day, on Christmas Eve, a girl was kidnapped by a maniac dressed as Santa Claus. Sitting in a cage, Hailey decides to send for help a winged blue unicorn named Happy, her imaginary friend. Rushing through Christmas New York, Happy met the girl's father who – for some unknown reason – can also see the winged unicorn. A former police officer, now a contract killer, tenacious as a cockroach and mad as a hatter, Haley's father is a very controversial character.
Surprisingly, Nick Sax, Hayley's father, joins forces with Happy to rescue the girl. However, this is only the very beginning of their joint adventures, which will bring unusual partners even to a meeting with unpleasant aliens.
Interesting Facts
The first episode of the television series was aired on Syfy on December 6, 2017. Renewed only once, the TV show was canceled following the release of the final episode of Season 2.
The charismatic actor Christopher Meloni is familiar to the audience as Detective Elliot Stabler from the iconic TV series "Law & Order: Special Victims Unit", starred in "Happy!". Meloni will return to the role of detective in a new TV series that will be premiered as part of the global television franchise in 2021. The new TV show will be released under the "Law and Order: Organized Crime" title.
The TV series is based on the comic book series by Darick Robertson and Grant Morrison (showrunner of the TV series). In addition, Morrison's "Brave New World", a free-form serial adaptation of the novel of the same name by Aldous Huxley, premiered in 2020.
About
"Happy!" is an American-made comedy thriller TV series based on the comic series. The first season of the TV show was premiered on December 6 on the US TV channel Syfy.
Related Shows
Dirk Gently's Holistic Detective Agency
Preacher
Misfits
Future Man
American Gods
Tags: crime, adventure, action, thriller, black comedy, Christmas, imaginary friend