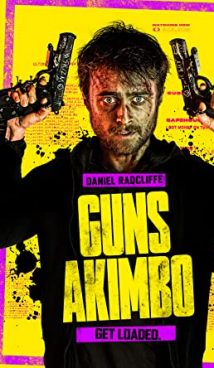 Synopsis
We see an alternative world not too different from ours. Skizm, a crazy game, is wildly popular among the poor people. Players engage in mortal combat with each other in a city that serves as a battle arena. Miles, a completely ordinary young man, enters the Skizm website, and now the organizers of the bloody battles are already standing outside the hero's door. Miles wakes up at his home after a huge dose of tranquilizers and with pistols bolted to his arms. Now he is another Skizm player and the future victim of a huntress girl named Nix. Miles will have to somehow survive, hide from Nix and even try to overthrow the organizers of Skizm.
Did You Know?
Guns Akimbo was first presented to the public on September 9, 2019 at the Toronto Film Festival, then toured various international film shows for six months until it was released on February 28, 2020 in the United States. And just a month later, on March 26, the Internet premiere of the film was organized by the producers.
Akimbo is a technique of using two types of weapons, one in each hand, during combat. Shooting two guns at the same time is also known as Macedonian shooting.
The main role in Guns Akimbo is played by Daniel Radcliffe, who has been trying to move away from the Harry Potter image as much as possible in recent years. He has already played a villain in Now You See Me 2, a living corpse in the film Swiss Army Man, an FBI agent infiltrated by a neo-Nazi group in Imperium, an Amazon explorer in the Jungle, and an apartheid fighter in Escape from Pretoria.
Actress Samara Weaving, who plays Nix, is a huge Harry Potter fan and even has a Deathly Hallows tattoo. It's funny that she did her best to hide this tattoo from Daniel Radcliffe. In 2019, the actress appeared in Ryan Murphy's mini-series Hollywood. Since 2020, the actress has been starring in the drama series Nine Perfect Strangers with Nicole Kidman and Luke Evans.
Information
A co-produced action comedy film. The world premiere of Guns Akimbo took place on September 9, 2019.
More Like This
Horns
Escape from Pretoria
Swiss Army Man
Tags: Comedy, Action, Alternate reality, Fights, Weapon, Murder, Daniel Radcliffe