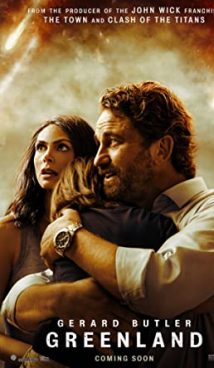 PG-13
01 hours 59 minutes
Synopsis
The Greenland is a film showing the story about another planetary disaster. A split asteroid falls to Earth in the form of many fragments of various sizes. Although people expected only a bright sky show, the first shard destroyed the Florida. Time after time, the fragments strike the Earth again – and the very last fragment will most likely cause the death of all mankind.
John (Gerard Butler), The Greenland protagonist, struggles to save his family. He becomes aware that there are bunkers in Greenland that can protect people from asteroid rain. But how to get to Greenland? This question remains open.
Interesting Facts
The Greenland was not filmed on the island of the same name. All scenes were filmed in Georgia.
The project was originally to be directed by Neil Blomkamp, ​​best known for his work on District 9, Elysium, and Chappy the Robot. In addition, Chris Evans was to play the lead role. However, both the director and the actor were forced to leave the project due to their busy work schedules.
The Geostorm, a film a bit like The Greenland, premiered 3 years ago. Gerard Butler, who played the protagonist in The Geostorm, saved the world from a failed automated system created to protect the Earth from climatic disasters.
Rick Roman Waugh, director of Geostorm, previously worked with Gerard Butler on The Angel Has Fallen, which is a triquel to The Olympus has Fallen. Noteworthy, before his directorial debut, Rick Roman Waugh worked as a stuntman. In addition, the director and actor are collaborating on The Kandahar, a film about the military in Afghanistan. While the studio is gearing up for filming, an official start date has yet to be announced.
The Greenland was supposed to premiere on June 12, 2020 – however, due to the coronavirus epidemic, the release date was postponed. The film was originally shown in Belgium on July 29, 2020. In some countries, it will be released at the end of August 2020.
About
The Greenland is a British-American disaster film. The world premiere took place on July 29, 2020.
Related Films
Geostorm
2012
Deep Impact
The Day After Tomorrow