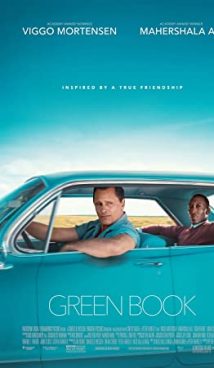 PG-13
02 hours 10 minutes
English, Italian, Russian, German

8.2
Synopsis
The Green Book was a special travel guide for African Americans wishing to travel around the United States. It contained the names of establishments that can serve dark-skinned people.
Tony Lip, a former bouncer who took a new job, got this guide. As a driver for Don Shirley, a dark-skinned jazz pianist, he accompanies his new boss on tour in the Southern States. Representing different worlds at the start of the journey, Tony and Don eventually become loyal friends.
Interesting Facts
The Green Book was presented to film critics and audiences on September 11, 2018 at the Toronto Film Festival. The film was released two months later, and its digital premiere took place in the winter of 2018.
Ranked in numerous ratings of the best films of 2018, "The Green Book" made a lot of noise in the world of cinema. Received nominations at all award ceremonies, this film earned an Oscar for Mahershala Ali, the leading actor. In addition, Green Book became the best movie of the year according to film academics.
Winner of two Academy Awards for his participation in films released just two years apart, Mahershala Ali is one of the most outstanding actors in modern Hollywood. It is noteworthy that the actor also prefers to appear in larger-scale film projects. Ali himself contacted the bosses of Marvel to propose his candidacy for the role of Blade, the vampire slayer. Although the restart of the franchise was not even considered at that time, Ali's proposal interested the producers and work on the project has already begun.
Nick Vallelonga, the son of Tony Vallelonga, the prototype of the main character, is one of the film producers.
About
Green Book is a co-production road movie based on a true story with a world premiere on September 11, 2018 at the Toronto International Film Festival.
Related Films
12 Years a Slave
Intouchables
Whiplash
Bohemian Rhapsody
Tags: road movie, southern states, USA, friendship, musician, racism, Mahershala Ali, Viggo Mortensen