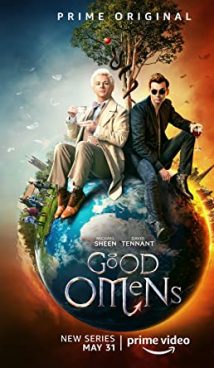 TV-MA
01 hours 00 minutes
Synopsis
We learn that our world is inhabited not only by ordinary people but also by angels, demons, and other supernatural beings.
Angel Aziraphale (Michael Sheen) and the demon Crowley (David Tennant), who have been happily living on Earth, learn that heaven is preparing the Apocalypse, which will start the last battle between the Good and Evil and lead to the End of the World. Aziraphale and Crowley — who are not the best of friends, but neither they are sworn enemies — understand their current lives are good enough. Joining their forces, they decide to stop the Apocalypse.
Interesting Facts
– "Good Omens" is based on the novel of the same name by Neil Gaiman and Terry Pratchett. Friends and co-authors once agreed that they would only work on the screen adaptation together, and after Pratchett's death in 2015 Gaiman quit working on the TV-series. However, in his last letter, Terry blessed Neal to continue. After receiving the letter, Gaiman finished the script.
– After the premiere of "Good Omens," a petition to ban the series appeared on the Internet, claiming that it, according to the authors, justifies Satanism. For some reason, the authors wrote the petition to Netflix (Good Signs is Amazon's TV-Series). Netflix promised 'not to do that again.'
– In May 2020, at the height of the epidemic, a short special episode of "Good Omens" appeared on the Internet showing the story of how demon Crowley and angel Aziraphale deal with social distancing.
Information
This is an American-British TV-series based on the novel of the same name by Neil Gaiman and Terry Pratchett in the genre of fantastic comedy.
The premiere of the Season 1 took place on May 31, 2019 on the Amazon Prime platform.
FAQ
– What channel is behind the TV-series production?
"Good Omens" were shown on the Amazon streaming service.
– Will there be a continuation?
No, it was originally planned as mini-series. However, Amazon bosses said they would be happy to see a continuation if Neil Gaiman let his imagination run wild and wrote a script for a sequel.
More Like This
American Gods
Preacher
Staged