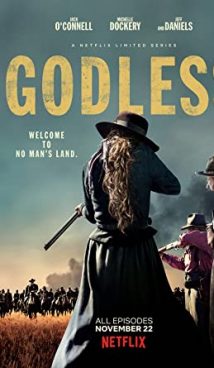 TV-MA
07 hours 32 minutes
Synopsis
The TV series takes place in the Wild West in 1884, where everyone is in awe when Frank Griffin name sounds. Roy Goode, Frank's adopted son, suddenly leaves his named father and accomplice. Ready to turn over every stone in the Wild West, Griffin and his minions set out in search of the traitor.
The bandits' path lies to the town of La Belle, where Roy Goode may be hiding. Although the population of this small town is almost entirely women, Griffin is not too picky about whom to kill. So, will the fragile residents of La Belle, armed with pistols, be able to fight back a gang of cold-blooded thugs?
Interesting Facts
All episodes of the TV series were released on November 22, 2017 on the Netflix streaming platform and immediately became available for viewing.
Highly acclaimed by viewers and critics alike, the TV show has won three Emmy Awards with twelve nominations in total. Actors Jeff Daniels and Merritt Wever, as well as composer Carlos Rafael Rivera were awarded statuettes.
Scott Frank, creator of the TV series, not only produced it, but also wrote the script. It is noteworthy that Steven Spielberg himself is the second executive producer of the TV show.
Scott Frank is the showrunner for "Queen's Gambit", one of the most successful TV shows of 2020. Frank recently announced another TV series starring by Anya Taylor-Joy – the adaptation of Vladimir Nabokov's novel "Camera Obscura".
Scoot McNairy and Whitney Able, actors who until recently were spouses in real life, played the roles of Sheriff Bill McNue and his first wife. They previously co-starred in "Monsters", a 2010 science fiction film. The director of the film specially chose this particular couple in love. Sadly, Scoot and Whitney announced their divorce in 2019.
About
The Godless is an American-made western TV series. Season 1 premiered on November 22, 2017 on Netflix streaming service.
Related Shows
The Queen's Gambit
Damnation
Hell on Wheels
Deadwood
The Son
Tags: Wild West, western, drama, thriller, Jeff Daniels