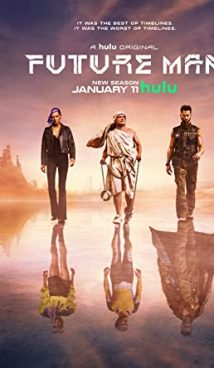 Synopsis
Josh Futturman (Josh Hutcherson) is your typical loser that lives with his parents and works as a janitor in a research centre. He spends all his free time playing video games in his room. One day successfully completes his favorite game Bionic Wars , when suddenly its main characters appear in front of him, tell him that the game was simply a test, and recruit Josh to save the world.
What awaits Josh now is adventures while travelling through time, an unknown post-apocalyptic world of the future, peaceful past to miss, and a lot of indecent humour. This series features bawdy jokes, so to enjoy Future Man, you will need to let go of your shame. as this is a truly
At the beginning of the third season the main characters find themselves in 3491, where they will have to survive while playing a Running Man-like game. In the end, they will have to save the universe again, one last time.
An American television series in the genre of science fiction/comedy.
Season 3 was premiered on April 3 on Hulu Channel.
Fun facts
Seth Rogen, who is famous for producing series and films featuring a lot of below-the-waist jokes, acted as a producer for this series. He actually was the mastermind behind such popular series as "Preacher" and "The Boys". Seth Rogen will actually join "Future Man" for the final season.
"Future Man" was nominated for the prestigious science fiction award called Saturn Awards as Best New Media Superhero Series.
The survival game called Die-cathalon from the third season is actually a reference to "The Hunger Games", where Josh Hutcherson starred before taking up the role of Josh Futturman.
 FAQ
What channel produces the series?
Hulu Channel.
When was season 3 released?
The entire season was released on April 3, 2020.
Will there be a sequel?
No. It was officially announced that the third season would be the last season of the series.