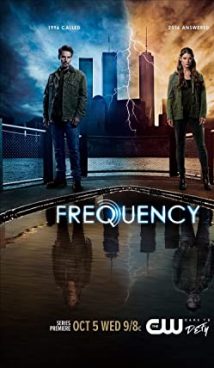 Synopsis
The main character of "Frequency" TV series Raimy Sullivan serves in the police. Raimy is a diligent NYPD Detective, and her both professional and personal lifelines are well-balanced: a successful career and long-time relations with her boyfriend Daniel who she is going to marry soon. But first of all, it's a science fiction drama, so the viewer expects a little bit more than that.
And here it starts: Raimy constantly thinks about her father, also a policeman, who died in the service twenty years ago. Onу day she finds in the shed her Daddy's old ham radio, turns it on, and …hears her father's voice in real time, from the past. After initial shock, she realizes that it's not a trick of her mind and she can communicate with her father Frank. First thing first, she warns him about his impending death, thereby creating the notorious "Butterfly Effect" that means: if you correct the past, the future also is going to get changed. Now it all needs to be corrected, except though… great atmosphere, intriguing storyline, good actors, and rich palette of emotions throughout the series.
Trivia
"Frequency" TV series was filmed for the American channel "The CW" where the first season was released on October 5, 2016. The channel soon announced that the series would be limited to one season and closed the TV show.
The plot of the series itself is based on the 2000 film of the same name, which was directed by Gregory Hoblit. By the way, the TV show itself follows quite closely the story of the original source, but the producers changed the gender of the protagonist. In the film "Frequency" (2000) the main character was a male police officer played by James Caviezel and Dennis Quaid played the role of his father.
After the end of "Frequency" TV series, Peyton List, the young brilliant actress and model, who played Raimy Sullivan, continues her active career joining the other projects. We can see her in "Gotham" TV series, "Charmed" TV series relaunch, as well as in the "Star Trek: Picard" TV series which hits a new season in 2021.
About
American-made television series is based on the fantasy thriller film of the same name in 2000.
The premiere of the first season of "Frequency" TV series took place on the "The CW" channel on October 5, 2016
Related TV Series
Timeless
The Tomorrow People
Limitless
Continuum
Tags: fiction, thriller, drama, detective, investigation, past