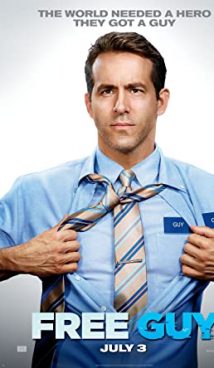 Synopsis
The life of an ordinary bank employee (Ryan Reynolds) completely changes when he learns that he is a non-player character in the Free City online game, a kind of mixture of Grand Theft Auto and Fortnite. He is contacted by programmer Milly (Jodie Comer), who wants to make him a real hero and save the game from closing.
Interesting facts
The character of Ryan Reynolds has no name. Everyone calls him Guy.
In the film, popular game bloggers appear in episodic roles of themselves. In addition, the world-famous game commentator Jacksepticeye, who has more than twenty million subscribers, voiced the character of the extremely popular Q*bert game.
Free Guy was an attempt for the British serial actress Jodie Comer to break into the world of Hollywood blockbusters. So far, Jodie is best known for playing the eccentric hitman Villanelle in Killing Eve.
Taika Waititi and Ryan Reynolds used to be filming together in the failed comic film Green Lantern by DC Comics. Nevertheless, now they are both participants in the Marvel Cinematic Universe.
Free Guy was shot by Shawn Levy, who is familiar to us from the following blockbusters: Night at the Museum, Night at the Museum: Battle of the Smithsonian, and Real Steel.
 Information
The American-made film is shot in the adventure comedy genre.
The film premiered on December 10, 2020.
Related Movies
Real Steel
Ready Player One
Deadpool