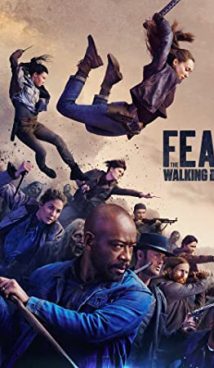 Synopsis
This is the continuation of the popular TV-series The Walking Dead's spin-off.
Since the first season, we have been following the life of another group of survivors, starting their journey from the Pacific coast of the United States. In the first season, we saw the beginning of zombie apocalypse, but events of the sixth season happen almost at the same time as in the original series.
Fear the Walking Dead is not based on comics and only mimics the atmosphere and setting of the literary source. One of the TV-series showrunners still Robert Kirkman, who wrote this graphic epic. So the plot is not bound by the source at all, and every plot twist comes as a surprise. Kirkman is much more violent with the protagonists, and in five seasons he has killed off several characters who, it would seem, should have remained in the series.
At the end of the fifth season, a group of survivors was taken in by guileful Virginia's organization. The heroes will be divided and taken to different settlements and will no longer be able to communicate with each other. Morgan, who has become the de-facto leader of the group, is wounded by Virginia and left for zombies to eat.
Interesting Facts
The trailer promises the return of all the main characters who survived in previous seasons. Now, the main task of Morgan and his accomplices is to fight Virginia's group and find a new refuge.
Dwight (Austin Amelio), who continues to search for his wife, will also return to the series, and, most likely, he will succeed.
On the Internet, people have suggested that Morgan, left to be torn apart by zombies in the last minutes of the fifth season, will be rescued by Madison, who, according to the story, died several years ago. Showrunners do not comment on such guesses, but the universe of The Walking Dead gave us many such surprises.
Fear the Walking Dead has several spin-offs of its own. The last of them — The Althea Tapes — was released on YouTube in the summer of 2019. It consisted of interviews with survivors made by a woman named Althea.
Initially, the premiere of the sixth season of Fear the Walking Dead was supposed to take place in the summer, but due to the coronavirus pandemic, the first episode will be released on the American channel AMC only on October 11, 2020.
Information
This is an American-made horror TV-series based on the Robert Kirkman's comics.
The premiere of the sixth season will take place on October 11, 2020 on the American channel AMC.
More Like This
The Walking Dead
The Walking Dead: World Beyond
Black Summer