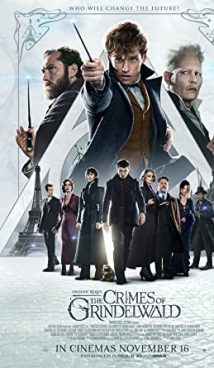 PG-13
02 hours 14 minutes
Synopsis
"Fantastic Beasts: The Crimes of Grindelwald" movie is a sequel to the Warner Bros. series of films based on a story taken from a thin book. After being exposed and taken into custody, Grindelwald manages to escape. Now, the evil wizard arrives in Europe to gather his supporters. The goal of Grindelwald is simple – to conquer ordinary people who do not have magic skills and to proclaim the power of wizards. So, both worlds are now on the brink of a global war.
Interesting Facts
It looks like David Yates, the British filmmaker, was enslaved by the Warner Bros. Once worked on television series production, David was hired by studio bosses to work on the "Harry Potter and the Order of the Phoenix" film. Having already shot 4 films of the famous franchise, Yeats was directed to develop "Fantastic Beasts" film franchise. By the way, having found free space in his schedule, David directed "The Legend of Tarzan" with Alexander Skarsgard in the title role – but the film was not very successful. Now, Yates has already directed two films for the new franchise about Magical Wars and has three more to direct.
Although the second film in the new Fantastic Beasts franchise was poorly received by critics and lost at the box office, work on the new project is in full swing. However, evil doom hovers over the filming of the triquel: Johnny Depp has become persona non grata due the scandal with Amber Heard, his ex-wife; dissatisfied with the script, J.K. Rowling asked to rewrite it; due to the coronavirus pandemic, the project was temporarily frozen. Although the film was originally scheduled to premiere in November 2020, the release date was pushed back a year. So, will it premiere in 2021? Will Warner Bros. studio continue to release new films within the franchise that was conceived as the pentalogy? We will find out the answers to these questions in the near future.
About
Fantastic Beasts: The Crimes of Grindelwald is a British-American co-production fantasy adventure film.  The world premiere of the movie took place on November 8, 2018 in Paris.
Related Films
Fantastic Beasts and Where to Find Them
Harry Potter and the Deathly Hallows
Harry Potter and the Half-Blood Prince
Tags: Harry Potter, fantasy, magic, J.K. Rowling, Johnny Depp, Jude Law