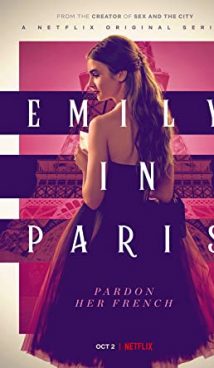 Synopsis
Emily, a wonderful American woman in her early twenties, accepts a job offer abroad. She is about to move to fabulous Paris, one of the most wonderful cities in the world. With the spontaneity of a native of the New World, the girl not only plunges headlong into interesting work, but begins to explore the delights of Paris. Spectators will see glossy views, the famous Eiffel Tower, street cafes and attractive French people.
Interesting Facts
The Emily in Paris TV series premiered on October 2, 2020 via Netflix streaming service. From this date, all Netflix subscribers can watch the adventures of a young American woman in the French capital.
Darren Star, the showrunner of the television series, is also known as the author of "Beverly Hills 90210", "Melrose Place" and "Sex and the City", which have become iconic TV shows. Unfortunately, after the closure of a television project telling the story of four New York ladies, Star was unable to create a television series more successful than "Sex and the City".
Taking place in Paris, the filming of the television series was successfully completed before the coronavirus pandemic.
Starring in "Emily in Paris", Lily Collins continues to pursue her acting career in Hollywood and we will soon see her in "Mank", a film by David Fincher about the life of Henry Mankiewicz, co-writer of the great motion picture "Citizen Kane". Gary Oldman and Amanda Seyfried are also included in the starring cast of the film.
About
Emily in Paris is an American-made romantic tragicomedy TV series premiered on October 2, 2020 on the Netflix streaming platform.
Related Shows
Sex and the City
Love Life
Dollface
Tags: Europe, romance, moving, high life, Lily Collins, cinema