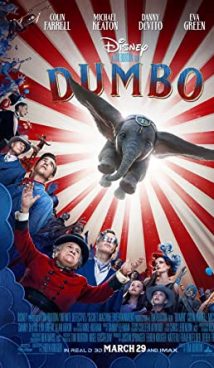 Synopsis
The film version of the classic Disney cartoon from 1941. In the Medici brothers' circus, a baby elephant with extremely large ears is born. From the very beginning, Dumbo becoming an object of ridicule, in the end the wonderful baby elephant begins to fly with the help of ears, which the owner of the circus once considered ugly. Later Dumbo becomes a circus star, but falls into the hands of V. A. Vandevere, the greedy owner of the amusement park, and here the already difficult life of a baby elephant becomes unbearable.
Did You Know?
Dumbo was presented to the public on March 11, 2019 in Los Angeles, and since March 27, the film was released in wide distribution. On June 28, 2019, Dumbo began showing on streaming services.
In recent years, Disney has been actively creating film adaptations of its cartoons. It all started with Cinderella, continued with The Jungle Book and went on stream: Beauty and the Beast, Dumbo, Aladdin, The Lion King. Mulan premiered in 2020. In the future we will see films The Little Mermaid, Peter Pan, Snow White and the Seven Dwarfs, Pinocchio.
Tim Burton began his career at Walt Disney Studios. He not only participated in the creation of the Black Cauldron and The Fox and the Hound cartoons, but also directed a short TV movie about the adventures of Hansel and Gretel. By the way, it is likely that the next project of the great director will be a sequel of Beetlejuice, a film that revealed Tim Burton's talent to the world. Michael Keaton and Winona Ryder will return to their roles three decades later.
Tim Burton has several favorite actors that he often stars in his films. So, Eva Green has already played in the director's films three times, Danny DeVito and Michael Keaton took part in four Burton's films.
Information
A co-production film based on the Disney cartoon with the same name. The world premiere of Dumbo took place on March 11, 2019 in Los Angeles.
More Like This
The Lion King
Aladdin
Lady and the Tramp
Tags: Film Adaptation, CGI, Disney, Baby Elephant, Drama, Colin Farrell, Michael Keaton, Danny DeVito, Eva Green