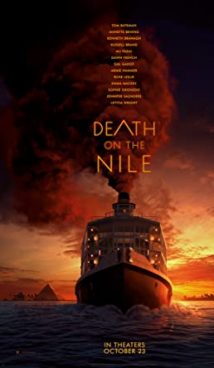 Synopsis
Having finished his investigation on the Orient Express, the extraordinary detective Hercule Poirot goes on a vacation to Egypt. He gets on board the Karnak steamer that is heading down the Nile river. Naturally, someone else is once again murdered, and only the famous Belgian can unravel the mystery of a young woman's death.
Interesting Facts
Death on the Nile is a sequel to Murder on the Orient Express (2017). Kenneth Branagh, who took the role of Hercule Poirot, directed both detective stories.
Both films feature an extraordinary cast. If the previous film had such celebrities as Penelope Cruz, Judi Dench, Johnny Depp, Michelle Pfeiffer, and Daisy Ridley, Death on the Nile can boast of such famous actors and actresses as Gal Gadot, Armie Hammer, and Annette Bening. A rising star, Emma Mackey, has impersonated one of the main roles. Before that, she was part of the cast in the popular TV-series called Sex Education.
It is the third screen adaptation of the mystery novel of the same name by Agatha Christie. Earlier, Death on the Nile became an episode of the TV-series with David Suchet. Even before that, there was a screen adaptation of 1978 with Peter Ustinov as Hercule Poirot. All in all, Ustinov impersonated the famous Belgian detective six times.
Agatha Christie dedicated 86 novels and short stories to Hercule Poirot. In 2013, the company that now owns all rights to the great author's literary heritage, hired an American writer Sophie Hannah to write several novels about Poirot's investigations. They have already published three books.
After being postponed repeatedly, the final date of Death on the Nile's premiere is set to October 9, 2020, in the UK. Starting from October 22, the film will be shown in all open movie theaters around the world.
Information
This is an American whodunit film based on the Agatha Christie's novel.
The world premiere of Death on the Nile will take place on October 9, 2020.
More Like This
Death on the Nile (1978)
Murder on the Orient Express
Murder on the Orient Express (1974)
Tags: murders, investigation, Hercule Poirot, Kenneth Branagh, Gal Gadot, Armie Hammer, Annette Bening